By Dr. Eric Fruits
Econinternational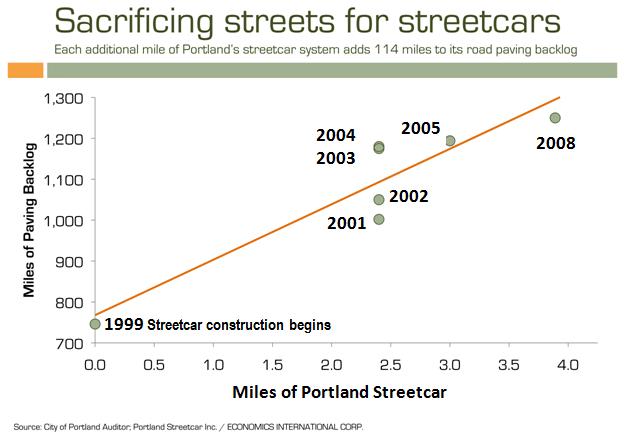 Portland politicians love their streetcars. Earlier this month, the city council unanimously approved a streetcar concept plan (PDF) that calls for a massive expansion of the streetcar system throughout Portland.
Streetcar systems have substantial construction costs. On top of that, Portland's system has huge operating losses. The City of Portland alone provides a subsidy of $1.9 million (or more) a year, or about $1.50 per rider (this PowerPoint has more information). Other funding comes from TriMet, sponsorship, and farebox revenues.
Since the streetcar began construction, Portland's streets have suffered.  During that time, Portland has added 500 lane miles to its backlog of unpaved streets. Portland's current backlog could pave a two-lane road from Portland to San Francisco, California. Since streetcar construction began, each additional mile of streetcar has been associated with an additional 114 miles of unpaved roads in the City of Portland.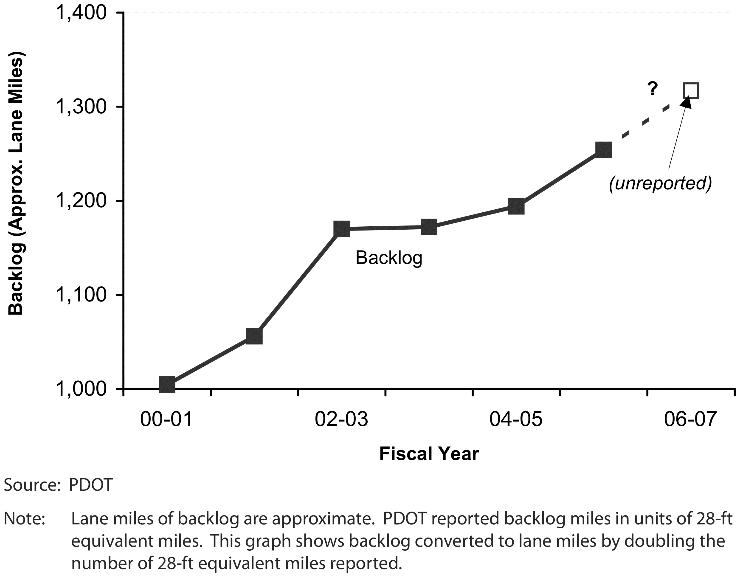 The figure above is from the Portland auditor's office report on the city's street repaving projects (PDF). The report request that the Portland Office of Transportation, through its commissioner-in-charge, to provide the auditor with a status report in one year (i.e., August 2009) detailing steps taken to address those recommendations we have reported as not yet resolved. It has been one month since that deadline has passed.