By Dr. Eric Fruits
Econinternational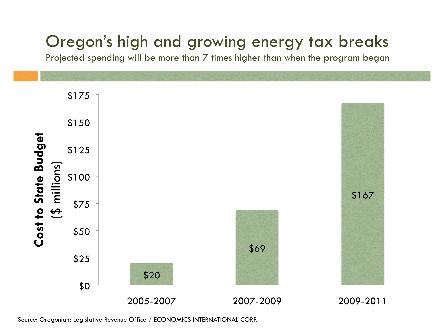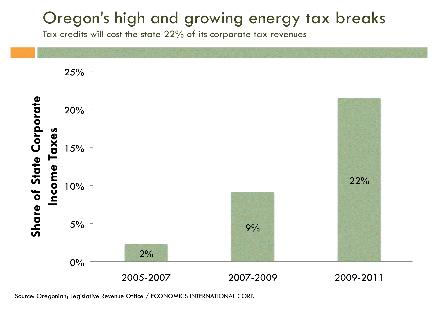 While other portions of the state budget are facing the axe, Oregon's tax subsidies for alternative energy and energy conservation a going through the roof.
The state estimates that the subsidies will cost the state $167 million in 2009-11. That's more than $20 million higher than the state's prediction earlier this year and more than double the amount given away 2007-09. In early 2008, when the economy was still in fairly good shape and the tax credits cost only half as much, the Oregonian declared that the program was "going bonkers."
When the program began, the subsidies accounted for only 2 percent of corporate tax receipts. In 2009-11, the state predicts it will account for 22 percent. The projected subsidies are more than three times larger than the projected state budget gap.
A study commissioned by Oregon's Department of Energy found that some of the projects that qualify for the tax giveaways actually reduce employment and income. Commercial renewables projects such as wind and solar projects were associated with fewer jobs and lower income than if the tax credit money were spent on other state funded programs. Industrial conservation projects—ranging from bus passes to energy efficiency equipment—also had a net negative impact on employment and incomes.
Even with the large subsidies, some of the companies that have been drawn to Oregon by tax credits are scaling back or slowing their plans. REpower USA Corp., the sales and project management arm of a German wind turbine manufacturer, announced this month that it would relocate its U.S. headquarters from Portland to Denver because Colorado's subsidies were better. Despite more than $30 million in government incentives, Vestas, a Danish wind turbine manufacturer, has slowed its plans to build a new headquarters in Portland.